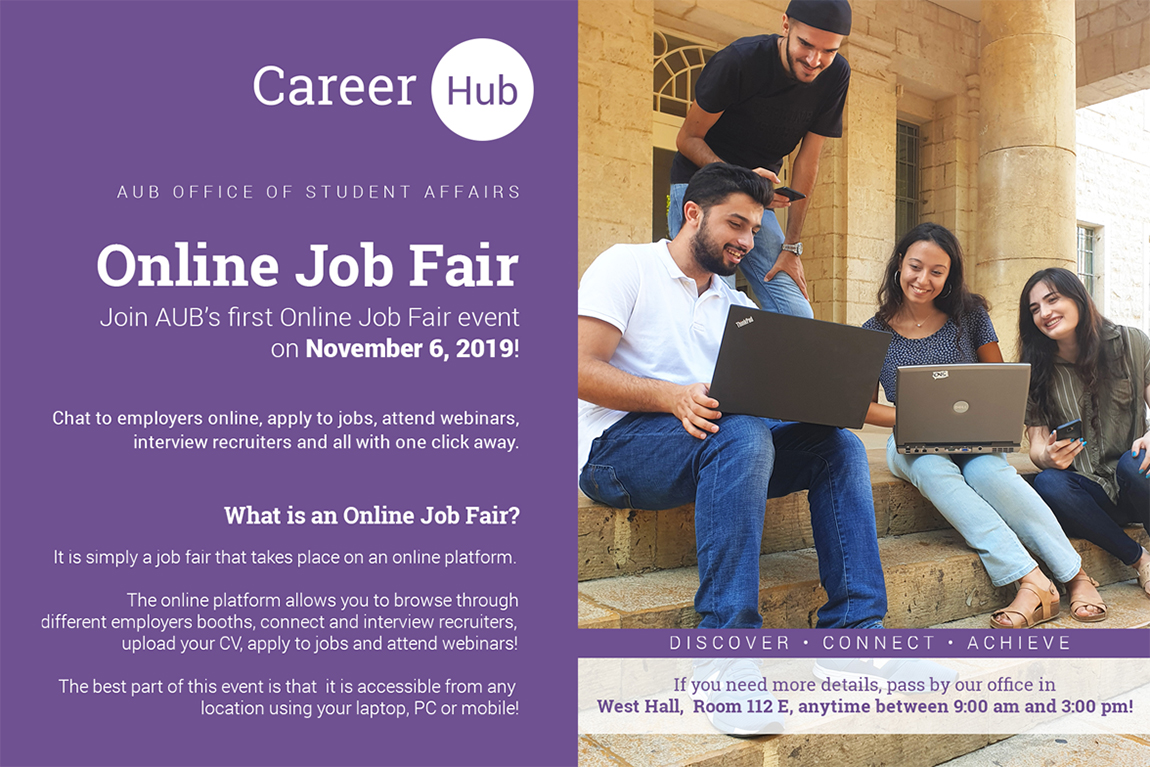 Why take part?
Connect and chat with local, regional and multinational employers
Interview employers and possibly receive a job offer
Take part in the first virtual career event taking place locally and regionally
Save time and travel cost especially if residing outside of Lebanon
How to take part:
Register online (You will need to provide your AUB ID to complete the registration). If you are an alumni and have no records of your AUB ID, we will assist you in retrieving your ID number by emailing us your request to careerhub@aub.edu.lb )
Don't forget to add your credentials and upload your updated CV. On the day of the event make sure you connect early, the earlier the better! You will have a better chance of connecting with top recruiters as a first comer.
Research your target companies before the event and prepare your elevator pitch!
Browse booths and check the posted vacancies
Attend webinars and network with recruiters
Be ready to get interviewed on the spot! Let us know if you need help in sharpening your Interviewing skills
Your checklist before the fair:
Save the Date of the online fair (November 6, 2019 at 10 AM)
Make sure you are connected to the internet
Enable your Audio/Video settings (ensure you are in a noise free area specifically if you are interviewing employers online)
Dress smart for any potential interviewing
Upload your CV and apply to posted vacancies
Make the best out of the event by interacting with recruiters
We can help you:
Fixing and updating your CV
Preparing you for an online interview
Providing you more details on the participating firms and the event

Feel free to book an online appointment with our team on this link

Career Hub Online Booking

for any enquiry or assistance

.
Upcoming Workshop
We will be running a workshop on October 23, 2019 at 12 PM – West Hall Auditorium A, to provide you with all details of the online job fair and help you make the best out of such an event. Register on this link to confirm your attendance:
Online Job Fair Workshop 2019
Looking forward to e-meeting you there!